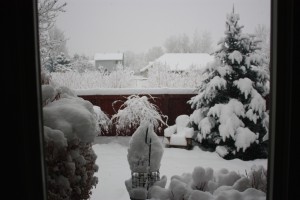 There is at least a foot of snow outside. I have been curled under the Christmas tree for an hour thinking about a song a friend sent me. 75 and Sunny. I'm think Christmas is such a strange construct, but then, most of our traditions are. All I know is that today I have all four kids home, no homework, my second book's revision is in and approved, my head is cavorting with ideas for the day and the new book. There is a mess in the kitchen, a list of things to do in my pocket, and a shelf full of questions in my head, but today I'm going to build a snow fort.
We're going to get snow and rain all week. I feel sunny.
Wherever you are, whoever you are, I hope you are feeling sunny too… Merry Christmas!